Copyright © 1996, 1997, 2001 by Galen Daryl Knight and VitaleTherapeutics, Inc.
Metal Ions That Bind Sulfur Compounds
A more negative number for the Ksp in the following table indicates a more tenacious binding to oxygen or sulfur. Thus, plutonium, having a more negative value for oxygen and presumably sulfur has a greater theoretical potential than the other metal ions for "negatively" influencing both, our responses to the vitaletheine modulators and presumably our natural immunity against cancer and other diseases.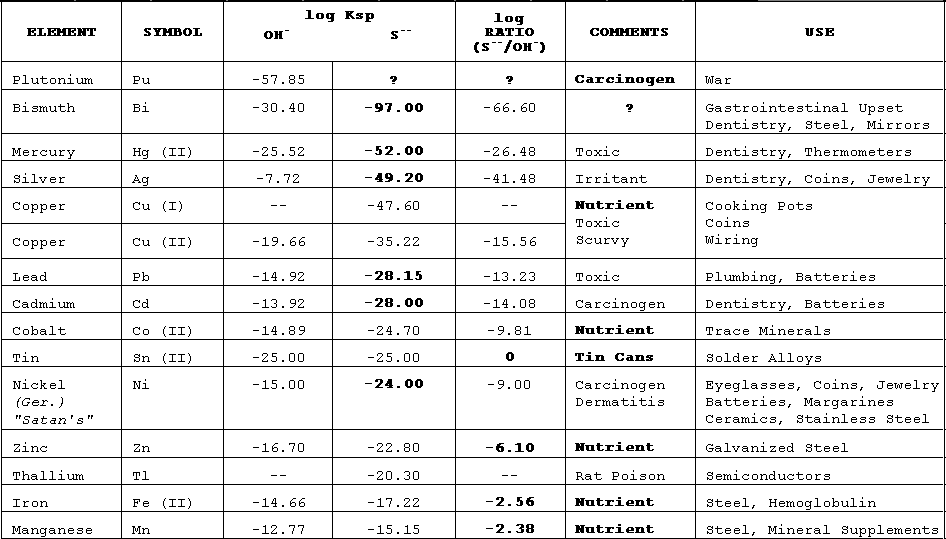 References on Solubilities of Metal Sulfides and Metal Toxicology.
Solubility Product Information
Kim, J.I. and Kanellakopulos, B. Solubility products of plutonium (IV) oxide and hydroxide. Radiochimica Acta, 48: 145-150, 1989.
Felmy, A. R., Rai, D., Schramke, J.A., and Ryan, J.L. The solubility of plutonium hydroxide in dilute solution and in high-ionic-strength chloride brines. Radiochimica Acta, 48: 29-35, 1989.
Bard, A. J. In Chemical Equilibrium. pp. 188-193. New York: Harper & Row, 1966.
Weast, R. C. and Astle, M. J. (eds.) CRC Handbook of Chemistry and Physics, 60th Ed., pp. B-220. Boca Raton, Florida: CRC Press, Inc., 1979.
Metal Toxicology and Exposures
ibid, pp. B-2 through B-26.
Underwood, E. J. Trace Elements in Human and Animal Nutirition, 4th Ed. New York: Academic Press, 1977.
Nutritional Aspects of Metals with Toxic Potential
ibid.
Marshall, C. W. Vitamins and Minerals: Help or Harm? Stephen Barrett, (ed.) Mt. Vernon, New York: Consumers Union, 1985.
GO TO: